IMAGINE
+

CREATE

+

ENGAGE
Experiences that stand the test of time.
OUR PURPOSE
In an age when attention spans are short and content is disposable, 3Stage Design marries strategic, creative and technical expertise to build immersive experiences that stand the test of time. Executive Briefing Centers / Interactive Exhibits / Brand Environments / Multimedia Experiences / Live Events
OUR SKILLS
Leveraging our vast experience creating high-profile events for global brands, we assemble diverse teams of best-in-class talent to deliver customized, end-to-end solutions—from conception, to execution, to long-term maintenance. Story Strategists / Architects / Graphic / Design Artists / Content Creators / Lighting Designers / System Engineers / Installation Experts / Project Managers
Making Virtual Reality Your Reality. Thanks to extraordinary new technology, the immersive magic of Virtual Reality has arrived. At 3Stage, we build VR solutions around your goals and strategies. Then we guide you through the creative and production process to make it easy. Our suite of VR solutions include special events, business meetings and virtual sales & marketing storytelling.
Our workflow process unlocks the power of VR and creates a seamless experience for you and your audience. Our team of technology and storytelling experts put your audience inside your story through 360-degree filming, advanced production techniques and the capacity to deliver across multiple platforms. At 3Stage Design, we make Virtual Reality your reality.
 OUR PROCESS
Though our skills are diverse, the 3Stage Team is united by our passion for storytelling, and an ongoing discovery of how to translate narrative into an experiential journey.  Comprised of three core elements, the 3Stage Design process is the engine that drives who we are, what we do and how we do it.
We dive into the brand story to be told and design how to bring it to life.
We engineer fabrication, hardware and content that transforms imagination into reality.
We deliver memorable audience experiences that connect, educate and inspire; and stellar client support that ensures the integrity of those experiences far beyond project launch.
Guiding the seamless integration of design, fabrication and technology is the foundation of every 3Stage Design project. In addition, we offer a suite of complementary solutions that allows us to make good on our promise of a truly end-to-end experience.
A beautifully designed space and leading-edge technology are nothing without world-class content to tell the story.  3Stage writers, designers and developers excel at creating story-driven media that informs, entertains and brings brands to life.  From video development to image mapping, and kiosks to interactive video walls, we merge artistry with technical know-how to move your audience—literally.
Managing and keeping content current is essential.  It requires a system that's flexible and easily updateable.  3SAdmin provides back-end admin tools for our interactive exhibits that allow key personnel to update content either remotely or locally.  Our customized programs are coded for each client's needs.  In addition, our data integration modules allow customers to gather essential information.
3SLink is our robust system software that controls every aspect of the technology in a center, from event presets to daily on and off protocols.  With IP-based software that runs on any IOS or Android device via a client-branded app, 3SLink gives our centers the ability to expand in functionality without investing in costly hardware.  3Stage teams are available to set up software, and remotely monitor and update system functionality as needed.
Once a project is up and running, an essential part of our offer is the role we play in keeping it up and running with minimal downtime. We provide multiple levels of support, including emergency service, phone support, remote monitoring, and monthly/quarterly maintenance calls.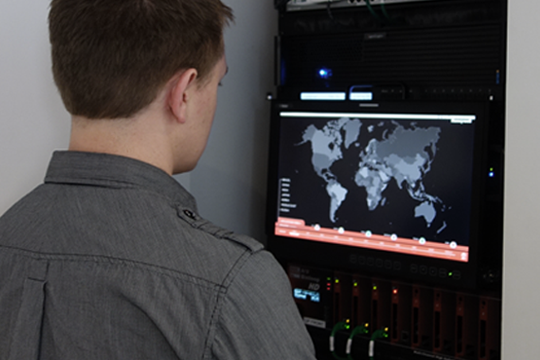 We're here to help transform your vision into a reality. Contact us. Let's explore the possibilities.
3STAGE - ATLANTA, GA
118 Walkabout Overlook
Jasper GA 30143
770.894.2985‬
info@3stagedesign.com
3STAGE - Washington, DC
5185 MacArthur Blvd N.W. Suite 727
Washington, DC 20016
202.256.8889
info@3stagedesign.com